Kenya vs Tanzania: What to Choose for Safari?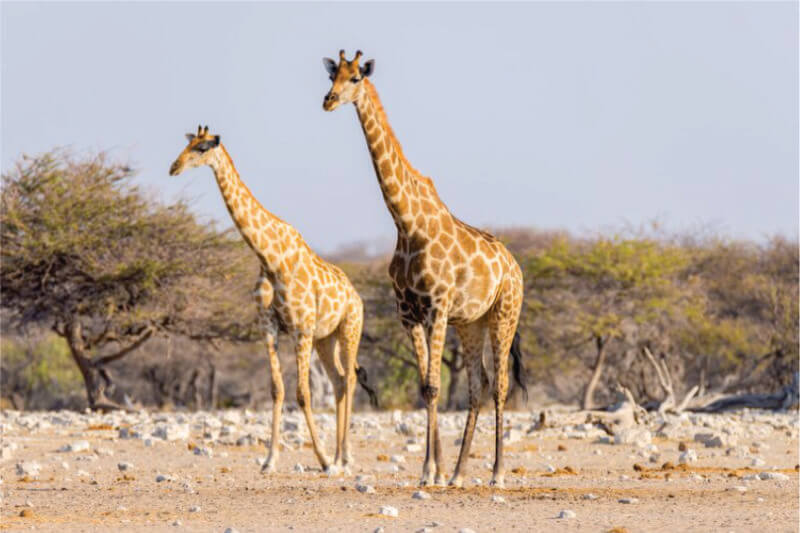 Tanzania vs Kenya: Landscape and Climate
Kenya and Tanzania have a lot of similarities if we speak about their geographical location and climate. Firstly, both Kenya and Tanzania are situated along the Indian Ocean. Accordingly, their position results in climate resemblances. The comparison of Kenya vs Tanzania temperatures shows that the hottest and coldest seasons are pretty similar. The average temperature will vary between 20°C and 28°C, and there are wet seasons in November and December, as well as in March or April through May or June. You also have to note that the coastal regions of Kenya and Tanzania are hotter and more humid, while the inland is more arid in Kenya and more temperate in Tanzania.  
Secondly, Kenya and Tanzania have a common border, and one contiguous ecosystem is, in fact, artificially divided by people. The Serengeti-Mara Ecosystem, which is one of the largest ecosystems on Earth, comprises Serengeti National Park in Tanzania and the Masai Mara National Reserve in Kenya. The animals that live in this ecosystem are free to move, while people who want to see them have to cross borders. Being united in one system, the parks become a spot for the outstanding Great Wildebeest Migration, which we'll talk about later. When choosing a safari to Kenya and Tanzania, you will be able to watch this action on vast savannahs and golden grasslands of any country.
A group of tourists in a grey minivan enjoying the majestic view of wildebeest herds from a popup top in Masai Mara plains on Kenya vs Tanzania for safari.
Kenya vs Tanzania Tourism
When deciding whether to choose Kenya or Tanzania for your visit, you have to remember that Tanzania is larger than Kenya. Therefore, if you don't have many days to devote to African adventures, you'd better choose Kenya. The major attractions will be situated closer to each other, and you will spend less time traveling from one place to another. Now, let's have a look at various activities offered by Kenya and Tanzania.
Kenya vs Tanzania for Safari
Undoubtedly, safari is the main reason why travelers choose Kenya or Tanzania. This kind of activity supposes game drives in wildlife to see animals in their natural habitat. You may spend many hours watching nature and spotting predators. Either Kenya or Tanzania safari will offer you the possibility to see a wide variety of animals. Although these countries are not the main destinations to see the Big 5 (rhinos, leopards, lions, buffaloes, and elephants), you may still catch a glimpse of these animals. Moreover, you are sure to see zebras, cheetahs, antelopes, vervet monkeys, and many more species on a Kenya or Tanzania safari.
Besides, Kenya is famous for birdwatching safari, so if you want to observe ostriches or flamingoes, you should choose Kenya. Likewise, there are endangered black rhinos in Kenya. However, if your dream is to spy on chimpanzees, you'd better go to Tanzania that features chimpanzee strongholds.
The Great Migration on Tanzania vs Kenya Safari 
Although both Tanzania and Kenya tours offer the view of the Great Wildebeest Migration, you will see different aspects of this process. In fact, the Great Migration is happening throughout the year, as it is the most massive constant animal movement. It takes place in Serengeti National Park in Tanzania and Masai Mara National Reserve in Kenya. You can see animals wandering in search of graze in the Mara plains in Kenya around August to October. The biggest event is crossing the Mara River, which happens around July in Kenya. At the end of October or November, the herds move back to Serengeti in Tanzania to spend the time in search of food until the next July.
If you want to become a witness of true wildlife events when predators catch grazers, you definitely should see the Great Migration. During Kenya or Tanzania safari, you will be able to watch wildebeest who are crossing the Mara River while predators such as crocodiles, big cats, hyenas, are trying to catch them. This outstanding view of herds that consist of thousands of animals will become a lifetime experience that you won't easily forget.
Accommodation and Transportation on Kenya vs Tanzania Safari
It is important to consider housing and transport while answering, 'Is Kenya or Tanzania safari better?' Nairobi, the capital of Kenya, offers many more flights than Dar es Salaam, Tanzania. So, there are cheaper tickets, and you may wish to fly through Kenya on your way to Tanzania. Similarly, being more economically developed, Nairobi has a greater variety of accommodation. Therefore, you can choose an appropriate dwelling in Kenya more easily.
A young couple sitting near a brown-tented camp in Masai Mara and having a good time on Kenya vs Tanzania for safari.
Kenya vs Tanzania Travel - Conclusion
So, is Kenya better than Tanzania? There is no definite answer to the question. Both in Kenya and Tanzania, you will be able to admire pristine landscapes and watch wildlife. As each traveler has specific wishes and aims, everyone is free to choose the destination to one's liking. Even if you take the same Kenya and Tanzania safari tours at various times of the year, your experience will be different. We are confident that after visiting Africa for the first time, you are sure to come back here again.
If you have a lot of time to spare and you are not on a tight budget, you can explore Tanzania's vast territories and enjoy long rides in resorts. Still, if you only have a few days, Kenya should be your choice. Featuring smaller parks and shorter distances between them, Kenya will give you an unparalleled experience. Even two or three days of watching animals in Kenya will make you overwhelmed with emotions. Additionally, the cost of flights and entrance fees, as well as the convenience of transport, make Kenya more attractive to first-comers to Africa. 
Consequently, you can formulate the question as, 'Should I choose Kenya or Tanzania for safari first?' and choose a destination that appeals to you most.