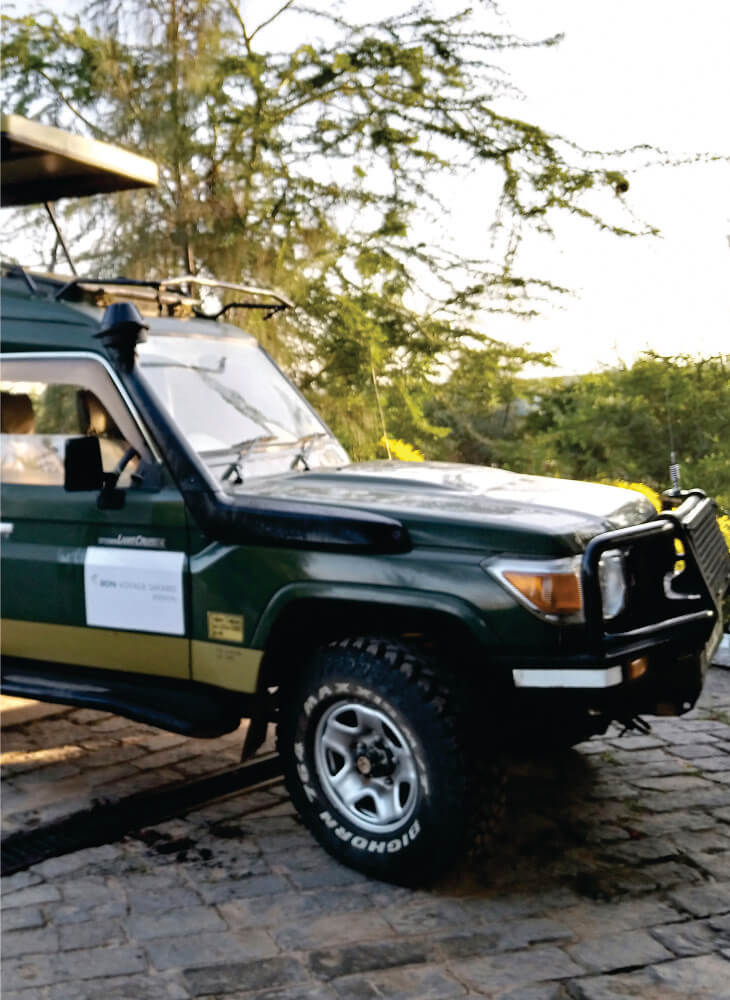 KENYA JEEP SAFARI TOUR AROUND PICTURESQUE AMBOSELI
Tour Itinerary P
review
Group Joining Safari Jeep Tour - Max. 7-Passenger
Durations :
2 Nights, 3 Days
Day 1 :
Nairobi/Mombasa - Amboseli
Day 2 :
Amboseli National Park
Day 3 :
Amboseli - Nairobi
Accommodation :
Budget Camp (Full Board)
Accommodation Upgrade Options :
A: Economy Lodge
B: Comfort Lodge
C: Luxury Lodge
Included :
Shared twin room, meals, accommodation, transport and wildlife tours
3-DAY AMBOSELI SAFARI JEEP TOUR ITINERARY
DAY 1: NAIROBI/ MOMBASA - AMBOSELI NATIONAL PARK
Arrive in Kenya today and visit the stunning Amboseli National Park
On arrival day of your 3-day Kenya jeep safaris, you will land at the Mombasa/Nairobi airport from where the assigned tour guide will make you aware of the details of your planned trip. All the arrangements would be ready by the time you arrive and the tour director would escort you to the group.
Embark on an enthralling tour today to see the famous elephant population of Amboseli. You will have lunch at the lodge. Once you arrive, you will enjoy an evening game drive. After completing the 4x4 game drive, go back to the lodge for your overnight stay.
>Accommodation (Full Board): Nyati Safari Camp, Amboseli
Do you want to upgrade your hotel during the trip?
| | | |
| --- | --- | --- |
| Option A: Economy Lodge (Full Board) | Option B: Comfort Lodge (Full Board) | Option C: Luxury Lodge (Full Board) |
| AA Amboseli Lodge | Ol Tukai Lodge Amboseli | Amboseli Serena Safari Lodge |
DAY 2: FULL-DAY AMBOSELI SAFARI JEEP TOURS
Full day Amboseli jeep tour starts!
On the second day of this Amboseli jeep safaris, you will get prepared for a great Amboseli Safari. After having breakfast in the lodge, the 4x4 game drive will begin. Amboseli Park has become one of the most visited parks in Kenya for its serenity as well as the view of the peak of Mt. Kilimanjaro during the sunrise. Here, you'll spot the big cats as well as the herds of African Elephants. Come back to the lodge and enjoy your stay in Amboseli National Park.
>Accommodation (Full Board): Nyati Safari Camp, Amboseli
| | | |
| --- | --- | --- |
| Option A: Economy Lodge (Full Board) | Option B: Comfort Lodge (Full Board) | Option C: Luxury Lodge (Full Board) |
| AA Amboseli Lodge | Ol Tukai Lodge Amboseli | Amboseli Serena Safari Lodge |
DAY 3: AMBOSELI NATIONAL PARK  - NAIROBI/ MOMBASA
Time to bid adieu
Today is the last day of your jeep tour and also the day of your return. However, before our Amboseli safari jeep tour is over, you'll still have lots of exciting things to do and to see. After relishing breakfast, check out of the Amboseli Lodge and enjoy a wonderful view of Mount Kilimanjaro from our rooftop jeep en route to Nairobi.

Once in Nairobi, you'll make your way towards the airport with guided assistance from where you will board your flight back home.

>Drop off at the Airport/ hotel within Nairobi.

>Arrival time in Nairobi: At about 0345 hrs.
COMFORTABLE AMBOSELI JEEP SAFARI TOUR
Plan a jeep safari tour in amazing Amboseli with a guide and enjoy the beautiful scenery accompanied by fascinating stories about the virgin Kenyan land around you. Get stunned by vibrant wildlife in Amboseli National Park, take an exciting 4-hour game drive on Amboseli plains, and create unforgettable memories on this well-planned Amboseli safari jeep tours.
Our guided Kenya jeep safaris will take you to the most picturesque parts of Amboseli that impress with their variety of animals and bird species. With our Amboseli safari tours, you are sure to visit every imposing place and enjoy a safe and comfortable journey.
At Bon Voyage Budget Safari in Kenya, we take great care of the most comfortable conditions for our passengers. We pay great attention to every detail of the Amboseli safari jeep tours we arrange. Our offers include state-of-the-art equipment to make your 4x4 jeep safaris unforgettable. Choose our Amboseli jeep safari package today to enjoy a trip with much safety, lower prices, and great convenience.
KENYA SAFARI JEEP – PERFECT OPTION FOR AMBOSELI SAVANNAH TRIP
Our car is the leading vehicle for going on safari in Amboseli. On the Kenya safari jeep, we offer jeeps with different autos, with unique characteristics, among them are off-road jeeps which are the most versatile and comfortable for long trips on the Amboseli savannah. 
Amboseli jeep safaris are definitely the best option for those who want to get unsurpassed traveling experience and come back full of long-lasting memories. 
Whether you have already been to Amboseli or want to book 3-day Kenya jeep safari in Amboseli for the first time in your life, Bon Voyage budget safari travel agents will find the best package to perfectly fit in your particular needs. We have a wide variety of Amboseli safari jeep offers customized for any taste and budget.
Our jeep safari price includes everything from comfortable transportation to convenient accommodation and all meals. Everything you have to do to get this exceptional experience is just to join us for unforgettable Kenya jeep safari trips!
Are you ready for the most affordable and comfortable jeep safari in Amboseli? Contact Bon Voyage Budget Safari in Kenya right now and forget about the hassle of discomfort during long trips!