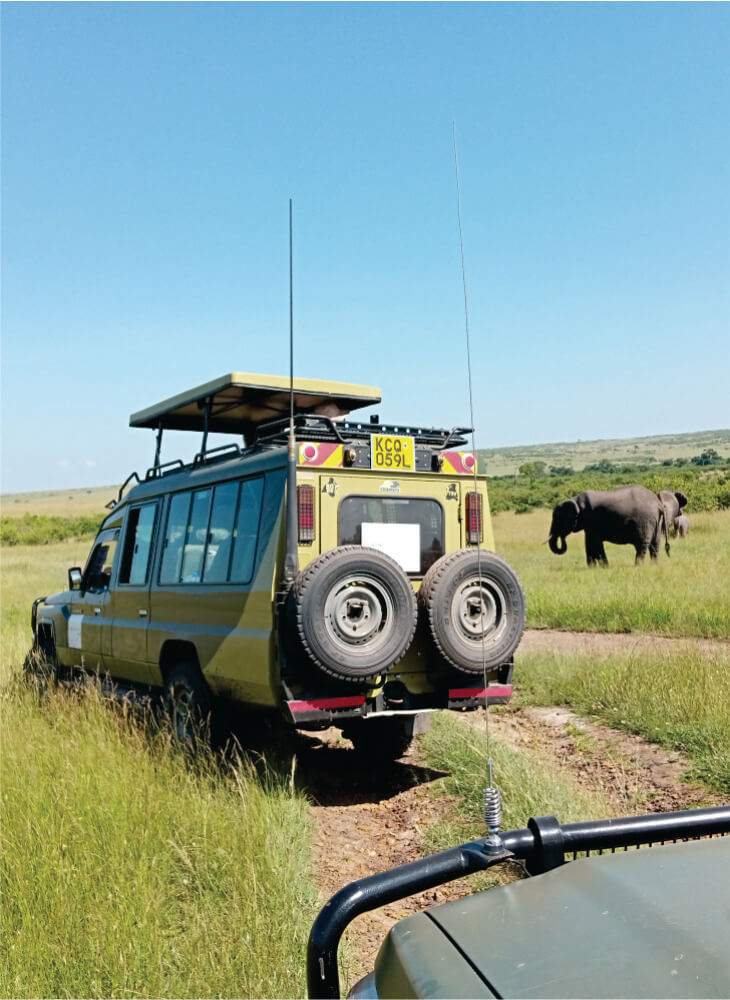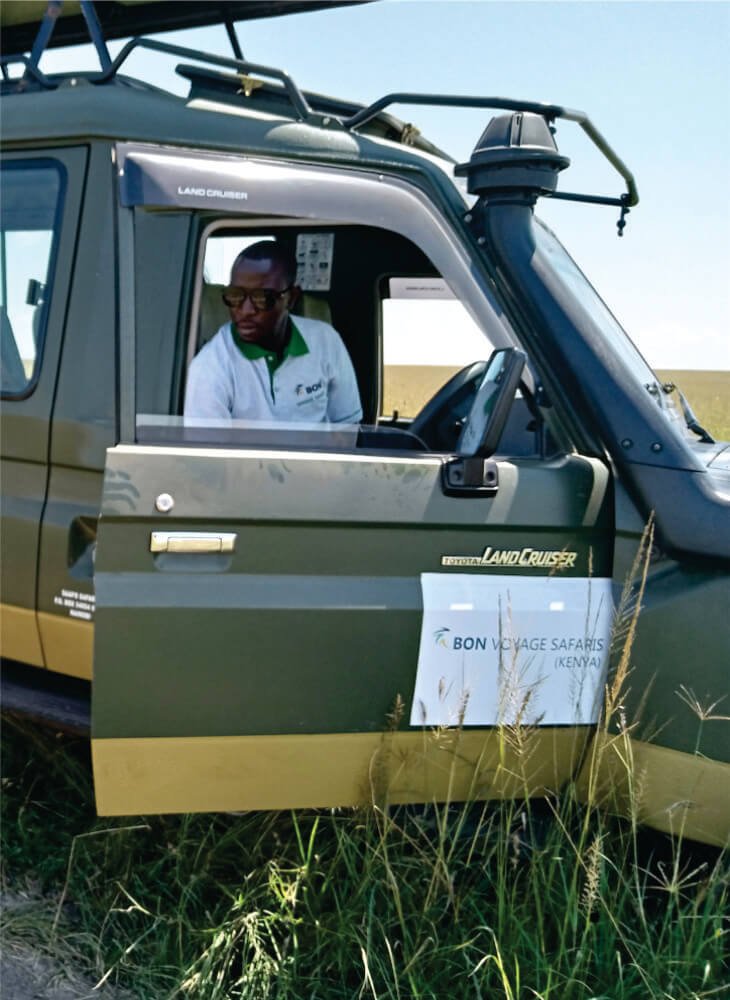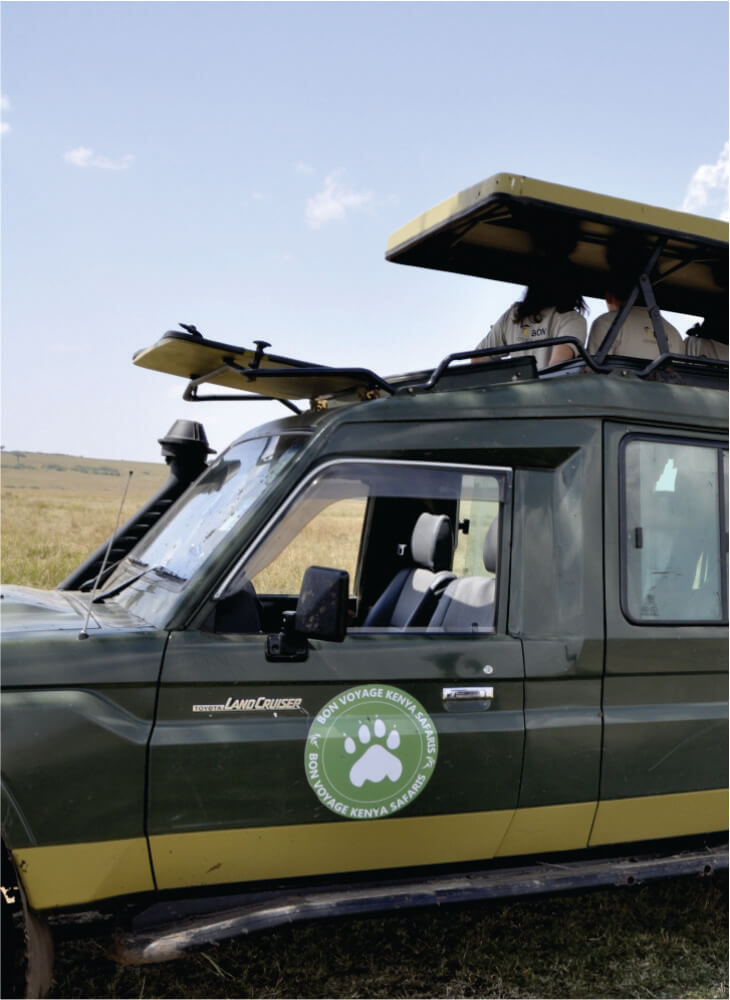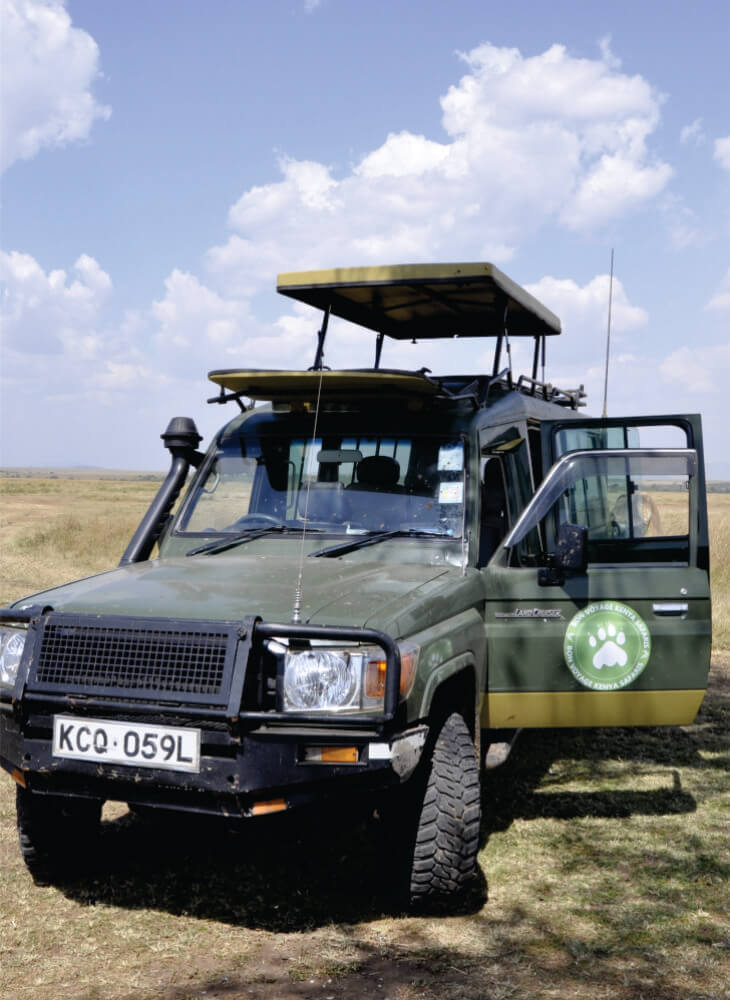 COMFORTABLE JEEP SAFARIS KENYA
Tour Itinerary P
review
Guided Group Joining Jeep Tour - Max. 7-Passenger
Durations :
2 Nights, 3 Days
Day 1 :
Nairobi - Masai Mara
Day 2 :
Masai Mara National Reserve
Day 3 :
Masai Mara, Lake Naivasha - Nairobi
Accommodation :
Budget Camp (Full Board)
Accommodation Upgrade Options :
A: Economy Lodge
B: Comfort Lodge
C: Luxury Lodge
Included :
Shared twin room, meals, accommodation, transport and wildlife tours
3-DAY KENYA JEEP SAFARI ITINERARY
DAY 1: NAIROBI JEEP SAFARIS TO MASAI MARA
6 hour Jeep Tour to Masai Mara starts!
Start day 1 of your 3-day guided jeep tour after waking up amidst the delightful ambience of your hotel. Join fellow travelers on the shared 4x4 jeep to Masai Mara. Relax and be at ease right at your seat as the jeep takes you on a ride through the floors of the Rift Valley.

As you go ahead on this ride, pay attention to the guide's commentary that goes on about Great Rift Valley and gives you tips about the best places to view and photograph. Spend the day while reminiscing with lifelong friends from all over the world, and sharing travel stories.

Arrive in Masai Mara for lunch. On arrival, check in to the Masai Mara budget camp. After some affectionate moments of relaxing, embark on a guided Kenya jeep safaris. After exploring all day, return to the camp for a restful night of sleep.
>Accommodation (Full Board): Enchoro Wildlife Camp
Do you want to upgrade your hotel during the trip?
| | | |
| --- | --- | --- |
| Option A: Economy Lodge (Full Board) | Option B: Comfort Lodge (Full Board) | Option C: Luxury Lodge (Full Board) |
| Enkorok Mara camp | Masai Mara Sopa Lodge | Mara Serena Safari Lodg |
DAY 2: FULL-DAY GUIDED JEEP TOUR TO MASAI MARA
Full Day Masai Mara Jeep Safaris Starts!
Begin day 3 with a healthy breakfast and continue your tour with the Full day jeep safaris. We explore Masai Mara National Reserve, a place that impresses with the striking beauty of its landscapes and a wide variety of animals and birds. Later on, our 3-day jeep tour to Masai Mara takes us to the next magnificent destination, which will definitely wow any traveler. It's a famous Mara Triangle.

In the evening, we experience an optional Maasai village tour, where you can get acquainted with the authentic culture and traditions of the hospitable native tribes. This fascinating journey is followed by free time to go souvenir shopping in the Maasai villages for traditional crafts, unique artwork, and upscale clothing items. To sum up, this Kenya jeep safari evening will be educational and entertaining at the same time.

>Accommodation (Full Board): Enchoro Wildlife Camp
| | | |
| --- | --- | --- |
| Option A: Economy Lodge (Full Board) | Option B: Comfort Lodge (Full Board) | Option C: Luxury Lodge (Full Board) |
| Enkorok Mara camp | Masai Mara Sopa Lodge | Mara Serena Safari Lodge |
DAY 3: MASAI MARA, LAKE NAIVASHA - NAIROBI
Time to bid adieu
Today is the last day of your tour and also the day of your return. However, before our 3 days jeep tour to Masai Mara is over, you'll still have lots of exciting things to do. After relishing breakfast, check out of the Masai Mara Camp, and proceed to Lake Naivasha (optional).
Mid-morning, we visit Lake Naivasha for Crescent Island Game Park nature walk and a Boat ride – it offers a mesmerizing panoramic view of birds (Goliath Heron, Great White Egret, White Fronted Bee-eater, and the Saddle-billed Stork), hippos, giraffe and wildebeest on Crescent Island. You'll enjoy a boat ride and walk among wild animals (giraffes, elands, wildebeest, zebras, impalas, etc.) and enjoy them up close.

Once in Nairobi, you'll make your way towards the airport with guided assistance from where you will board your flight back home.
>Drop off at the Airport/ hotel within Nairobi.

>Arrival time in Nairobi: At about 0445 hrs.
GUIDED JEEP SAFARIS TO MASAI MARA
Dream of an unforgettable and, at the same time, comfortable adventure? Want to feel yourself a part of the African wilderness that strikes with its fascinating beauty and the abundant animal world? We are glad to offer you such an opportunity! Bon Voyage Budget Safari in Kenya Deals organizes world-class jeep safaris to Masai Mara, Kenya, for individuals, families, and groups. With our carefully planned jeep safaris Kenya, you will not only discover the dazzling beauty of nature but enjoy premium comfort throughout your jeep tour. Our Kenya jeep safari packages include everything from fully guided safari drive to convenient accommodation and all meals. The best thing is that the jeep safaris we offer are quite affordable and won't ruin your family budget.
BEST
 3 DAYS GUIDED KENYA JEEP SAFARIS TO MASAI MARA
Bon Voyage Budget Safari in Kenya offers unforgettable, fully guided Kenya jeep safaris to Masai Mara. We provide the best 4x4 safari jeeps! When you book your 3 days jeep tour from us, the best experience and loads of positive emotions are guaranteed!
Choose Bon Voyage Budget Safari in Kenya to plan your guided family/small group excursions to Kenya's modest parks and reserves. We offer the best guided family/small group safari packages from Nairobi to Masai Mara, which are kid-friendly and family-friendly, excursions for the "big five," large and small mammals, native birds and reptiles. This guided small-group jeep trip package is truly designed from the ground up with families and children in mind, in the company of professional guides on 4x4 safari jeeps with pop up tops to give tantalizing game views. Romantic honeymoons are not left out. Our safari operators have hand-picked award-winning Nairobi/Masai Mara safari lodges that would indeed give you a sensational 3 days jeep trip experience.
WELL-EQUIPPED KENYA JEEP SAFARI
At Bon Voyage Budget Safari in Kenya Deals, we take great care of the most comfortable conditions for our clients. We pay much attention to every detail of the jeep safaris Kenya we organize. We proudly stand out for providing our clients with state-of-the-art equipment to make your Kenya jeep safari unforgettable. When you choose our guided jeep tour package, you can be sure that your trip will be as convenient as possible.
Bon Voyage Budget Safari in Kenya owns a fleet of modern, well-maintained 4x4 safari jeeps, group safari vehicles & self-drive land cruiser with complete family small budget safari necessities for a comfortable bush night. We offer 3 guided small group safari deals on 6 passenger sharing tour packages and holidays with an experienced driver-guides. Delight in an auspicious 4-day small group/family safari in Masai Mara, with gregarious jeep tour guides who will deliver splendidly to the best of their knowledge. Enjoy the 3 days tranquility of the guided Mara's wildebeest migration escarpments jeep tour well pronounced with game birds and animals, catch a glimpse of millions of wildebeests annually that decorate the Mara River banks and the refreshing ambiance of Kenya's wild.
THE SAFEST JEEP SAFARIS TO MASAI MARA
Want to plunge into the wondrous and mysterious world of virgin nature but still be sure of your complete safety? Then, we are definitely the right safari travel agents to choose. The security of the clients during jeep safaris is one of our main priorities. With Bon Voyage Kenya Safaris, you can forget any worries and enjoy your rest from the first to the last moment.
Firstly, we are a recognized Kenya safari tour operator with highly reliable field tour driver-guides. Their in-depth knowledge and long-lasting experience guarantees that our clients are safe and sound throughout their Kenya jeep safari.
Secondly, all our Masai Mara land cruiser safari jeep vehicles are fitted with GPS 24hr fleet and tracking system for ease of Mara wilderness location and safari activity monitoring. In the event of a mechanical breakdown or accident, we respond within the shortest time with our mobile safari rescue unit.
Are you ready for the most comfortable and safest guided jeep tour in Kenya? Contact
 Bon Voyage Budget Safari in Kenya 
right now
for the best travel modes!