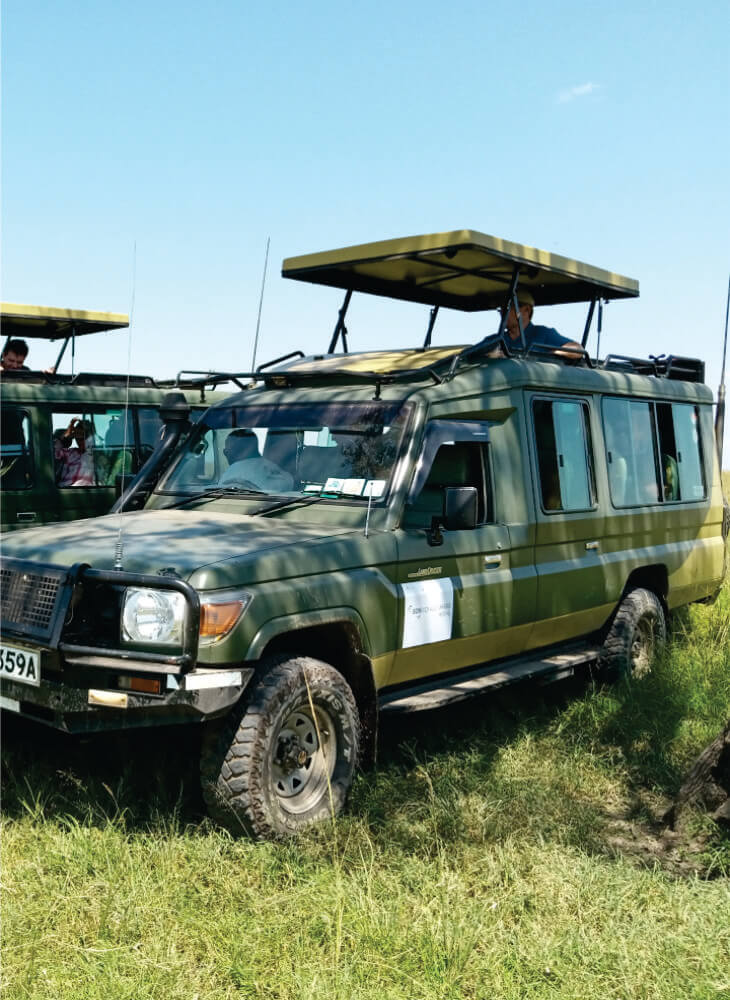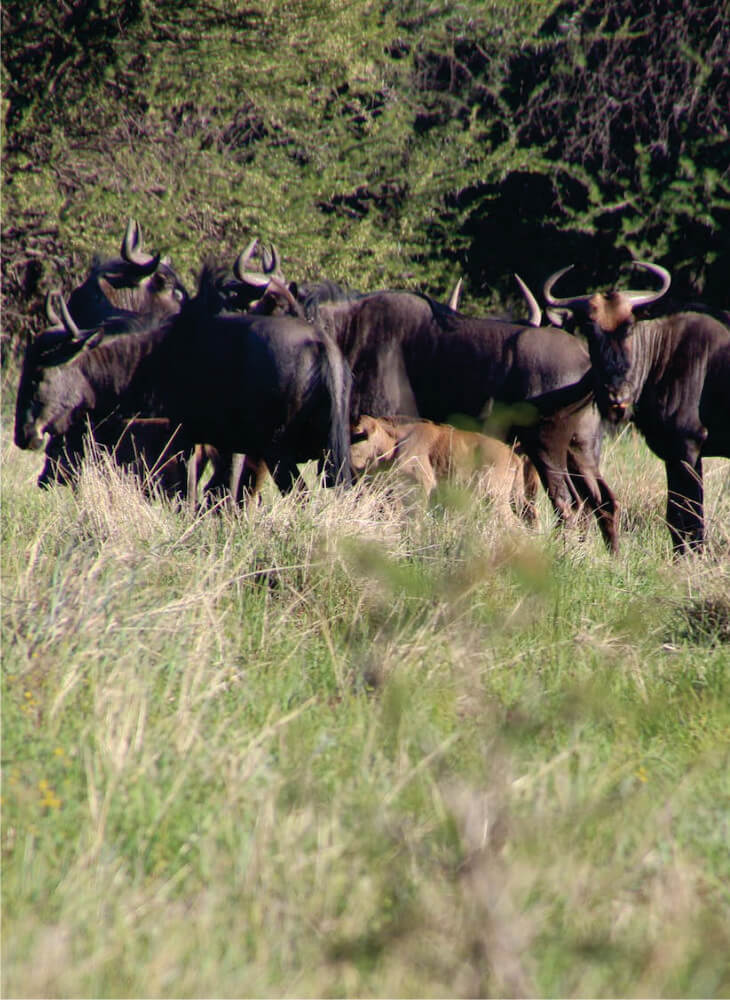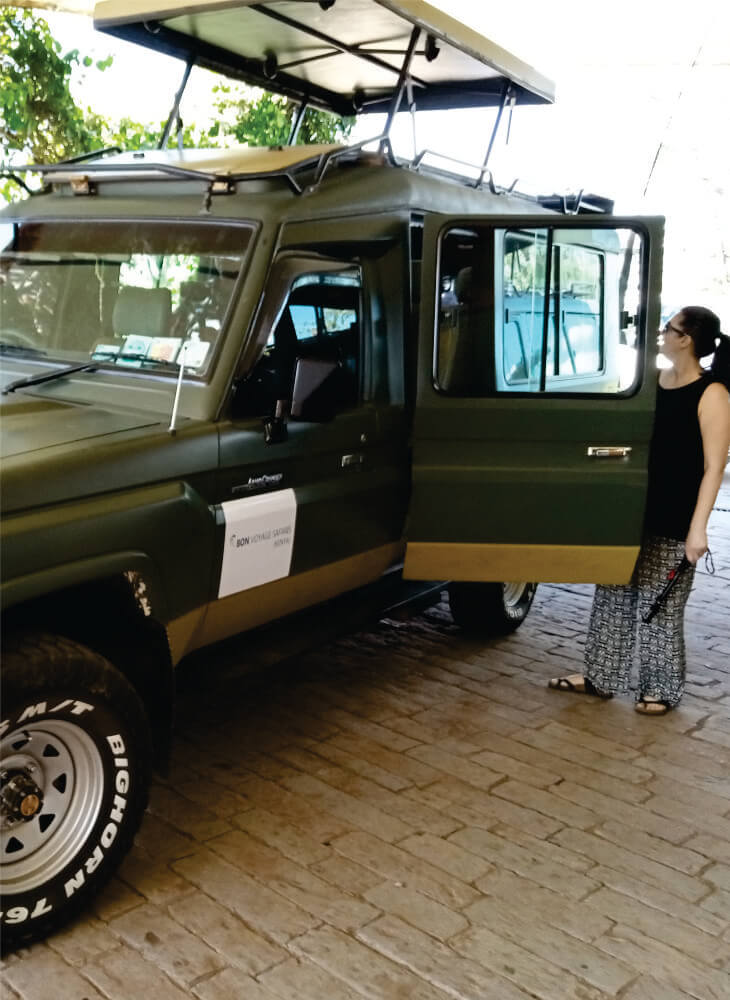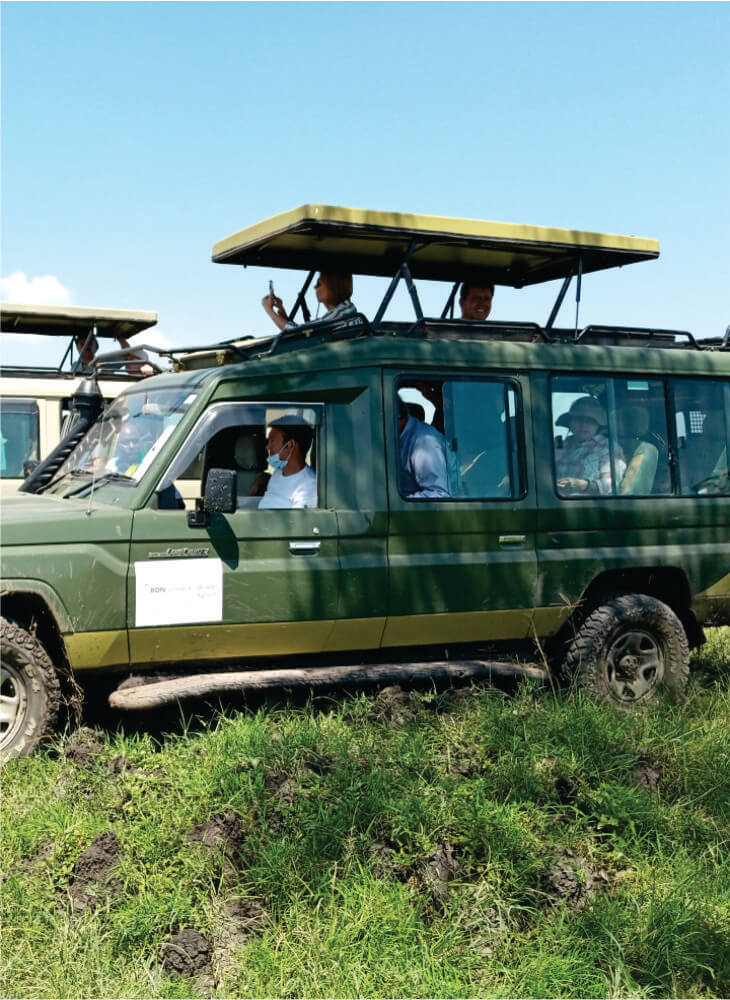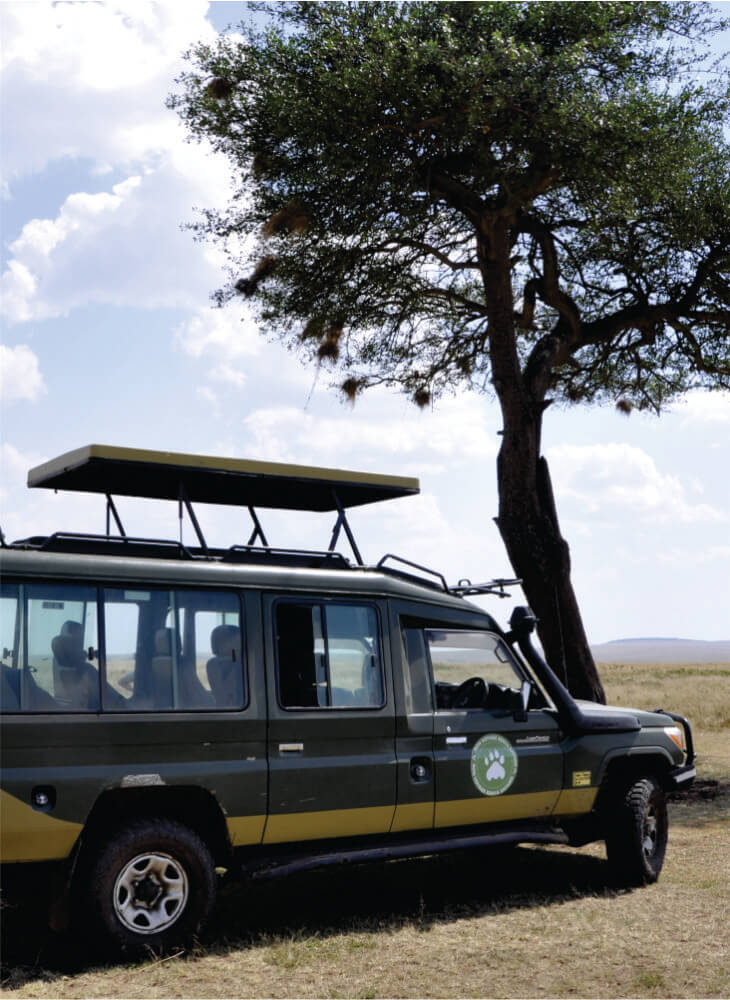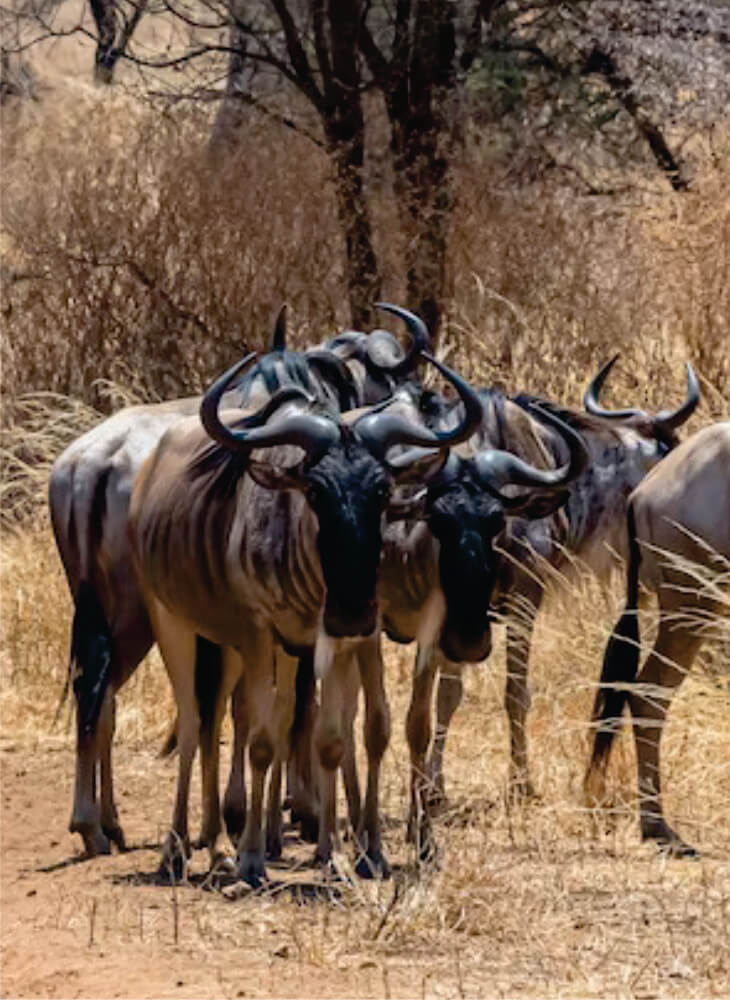 BUDGET GREAT MIGRATION SAFARI TOURS
Tour Itinerary P
review
Small Group Joining Jeep Tour - Max. 7-Passenger
Durations :
2 Nights, 3 Days
Day 1 :
Nairobi - Masai Mara
Day 2 :
Masai Mara National Reserve
Day 3 :
Masai Mara, Lake Naivasha - Nairobi
Accommodation :
At Mara River Migration Lodge
Accommodation Upgrade Options :

B: Comfort Lodge
C: Luxury Lodge
Included :
Shared twin room, meals, accommodation, transport and wildlife tours
3-DAY MASAI MARA GREAT MIGRATION SAFARI ITINERARY
Located inside Masai Mara National Reserve, Julia's River Camp will offer you a ring seat and an excellent accommodation spot for the Great Migration and splendid views of the Mara River filled with Nile crocodiles, hippos, wildebeest, zebra and other herbivores.
DAY 1: NAIROBI JEEP SAFARI TOUR TO MASAI MARA
Begin day 1 of your 3 day migration safari Kenya after waking up amidst the delightful ambience of your hotel. Take the group joining jeep to Masai Mara. You will get the chance to hop on and hop off whenever you wish to get a closer look of the attractions in the Rift Valley. Relax and be at ease right at your seat as the jeep safari Kenya takes you on a ride through the floors of the Rift Valley.

As you go ahead on this ride, pay attention to the guide's commentary that goes on about Great Rift Valley and gives you tips about the best places to view and photograph. Spend the day while enjoying the beautiful views throughout this ride and hop-on and hop-off whenever you wish to.

Arrive in Masai Mara for lunch. On arrival, check in to the Masai Mara budget camp. After some affectionate moments of relaxing, embark on a captivating jeep safari tour with your like-minded travelers. After exploring all day, return to the camp for a restful night of sleep.
>Accommodation (Full Board): Julia's River Camp
Do you want to upgrade your hotel during the trip?
| | | |
| --- | --- | --- |
| Option A: Economy Lodge (Full Board) | Option B: Comfort Lodge (Full Board) | Option C: Luxury Lodge (Full Board) |
| | Masai Mara Sopa Lodge | Mara Serena Safari Lodge |
DAY 2: FULL-DAY MASAI MARA GREAT MIGRATION SAFARI
Full day Migration Safari starts!
Start day 2 with a healthy and delicious breakfast and continue your tour with the Full day Masai Mara migration safari. We explore Masai Mara National Reserve, a place that impresses with the striking beauty of its landscapes and a wide variety of wildlife. you'll see a frequent amount of wildlife such as Masai giraffes, grey jackals, baboons, warthogs, bat-eared foxes, spotted hyenas, topis, impala, hartebeests, and wildebeest. African Elephants, buffaloes, hippos, and zebras are also found in great numbers. Later on, our great migration safari takes us to the next stunning destination, which will definitely wow any tourist. It's a famous Mara River.

In the evening, we experience an optional Maasai village tour, where you can get acquainted with the authentic culture and traditions of the hospitable native tribes. This fascinating journey is followed by free time to go souvenir shopping in the Maasai villages for traditional crafts, unique artwork, and upscale clothing items. To sum up, this great migration safari evening will be educational and entertaining at the same time.
>Accommodation (Full Board): Julia's River Camp
| | | |
| --- | --- | --- |
| Option A: Economy Lodge (Full Board) | Option B: Comfort Lodge (Full Board) | Option C: Luxury Lodge (Full Board) |
| | Masai Mara Sopa Lodge | Mara Serena Safari Lodge |
DAY 3: MASAI MARA, LAKE NAIVASHA - NAIROBI
Time to bid adieu
Today is the last day of your tour and also the day of your return. However, before our 3-day great migration safari is over, you'll still have lots of exciting and affordable things to do. After a lovely breakfast, it is time to check out of the lodge and proceed to Lake Naivasha (optional). Arrive at a good time for early lunch. Then followed by an afternoon excursion until sunset.

You'll enjoy a fantastic experience on a boat ride on the calm waters of Lake Naivasha for bird watching and a foot safari (walk amongst giraffes, elands, wildebeest, zebras, impalas, etc.) on Crescent Island Game Conservancy.

Once in Nairobi, you'll make your way towards the airport with guided assistance from where you will board your flight back home.
>Drop off at the Airport/ hotel within Nairobi.

>Arrival time in Nairobi: At about 0545 hrs.
GREAT MIGRATION SAFARI ON A BUDGET
Have you ever seen one of the most impressive natural wonders known as Great Migration? Undoubtedly, it's the event that everyone should watch at least once in his life. Bon Voyage Budget Safari in Kenya are pleased to give you such a unique opportunity. We offer inexpensive budget great migration safari tours to the Masai Mara National Reserve as well as jeep safari Kenya tours to Lake Naivasha and the Lake Nakuru National Park. Our migration safari packages stand out for their affordability and highly comfortable conditions of transportation and living. Whatever migration safari Kenya package from Bon Voyage Budget Safari in Kenya you choose, you are sure to enjoy every moment of your jeep safari tour and come back filled with tons of positive emotions and sweet memories.
3-DAY BUDGET
GREAT MIGRATION SAFARI
KENYA
Enjoy the best 3-Day combined great migration safari Kenya. We offer affordable Masai Mara joining jeep safari tours, Lake Nakuru & Lake Naivasha small group shared safaris! We provide 3 days of low budget group tours in a 6-Passenger jeep through scenically attractive migration safari places in Kenya; from Lake Nakuru National Park, Masai Mara Game Reserve tour and Lake Naivasha. The 3-Day Bon Voyage Kenya Safaris combined jeep trip enables tourists to interact with wildlife and outdoor activities; from Naivasha boat ride, Hell's Gate nature walks/cycling to Lake Nakuru bird walks. Venture in the 5 days combined great migration small group tours in Kenya and share unforgettable Masai Mara shared jeep tour moments on low budget tours from your own stay. Join our small group sharing/joining low-cost jeep safari to Masai Mara for the observations of reptiles, mammals, and Lake Nakuru birds; flamingos, eagles, and vultures both migratory birds and birds of prey. Inhabited with hundreds of bird species, Lake Nakuru is one of the bird-watching tour destinations in Kenya. We pride ourselves in our proficient group birding safari services with experienced 4 x 4 jeep driver-guides when it comes to tourist satisfaction.
MASAI MARA
GREAT
MIGRATION SAFARI
The Great Migration of the wildebeest in Kenya is called one of the new Seven Wonders of the World. It's not surprising because this event is an incredible and breathtaking sight. Actually, if there's a safari one should definitely go on, it's undoubtedly a great migration safari offered by Bon Voyage Safaris. Hardly can you imagine all magnificence and majesty a human can watch while enormous herds of wildebeest are paving their way through endless savannas and crossing the river full of crocodiles. All in all, almost two million animals take part in this spectacular sight, moving from the Tanzanian Serengeti National Park to the green pastures of the Maasai Mara National Reserve. That's why we strongly recommend you to join our great migration safari aimed at showing you one of the highest nature miracles.   
Bon Voyage Kenya Safaris offers exquisite wildlife safaris in Kenya. Succumb to the eye-catching Big 5 Animals spotting, superb views of millions of wildebeests crossing the Mara River, hundreds of species of birds coloring the park among other wild animals. Book the great migration safari package with us (June-September) and catch a glimpse of the gargantuan bearded wildebeests grazing, leaping their way across the Mara River in search of a better life in Kenya's Masai Mara Reserve. Venture in 3 days migration safari Kenya and discover the spellbinding drama of wild predators and prey. The Mara Triangle is a natural paradise for reptiles, amphibians, mammals (wildebeests, zebras, impalas, elands, hyenas, lions, leopards, buffaloes, elephants, rhinos, kudus, etc.) and birds (ostriches, secretary birds, superb starling, etc.)
Magic is made real by the spellbinding drama of millions of wildebeests migration across the Mara River to the Serengeti, lions, leopards, cheetahs and other potential predators play their part in fighting for the ecological niche.
LOW SEASON GREAT MIGRATION SAFARI
We offer 3 days Migration Safari Kenya for family/group tours. A great opportunity for groups to see great migration to and from Masai Mara in Kenya into Serengeti National park in Tanzania. During the months of June to September, millions of wildebeests including zebra, smaller numbers of Thomson's gazelle, Grant's gazelle, impala, and Masai Mara eland get together in preparation for their annual migrations safari in East Africa. These Kenya and Tanzania migrating herbivores (wildebeests and zebra) must strive to escape the sharp jaws of crocodiles as they cross the Mara River. We ensure the best Kenya migration-views for group tours on a 4x4 6-Passenger safari jeep with pop up tops. The volcanic-strewed Rift Valley, herds of migrating Serengeti National Park animals, plants and Masai Mara migratory birds blend intimately to give a serene environment suitable for a combined 8 days East Africa migration safari. Our clients enjoy 3 days jeep group tours of prudent wildlife safari across Kenya's migration touristy destinations.
Grant yourself and your family a unique opportunity to see one of the most fantastic natural wonders! Choose one of our great migration safari packages and contact us to book Kenya safari right now. We guarantee that this unforgettable experience is worth your time and money.